Made In Japan
Building Acoustics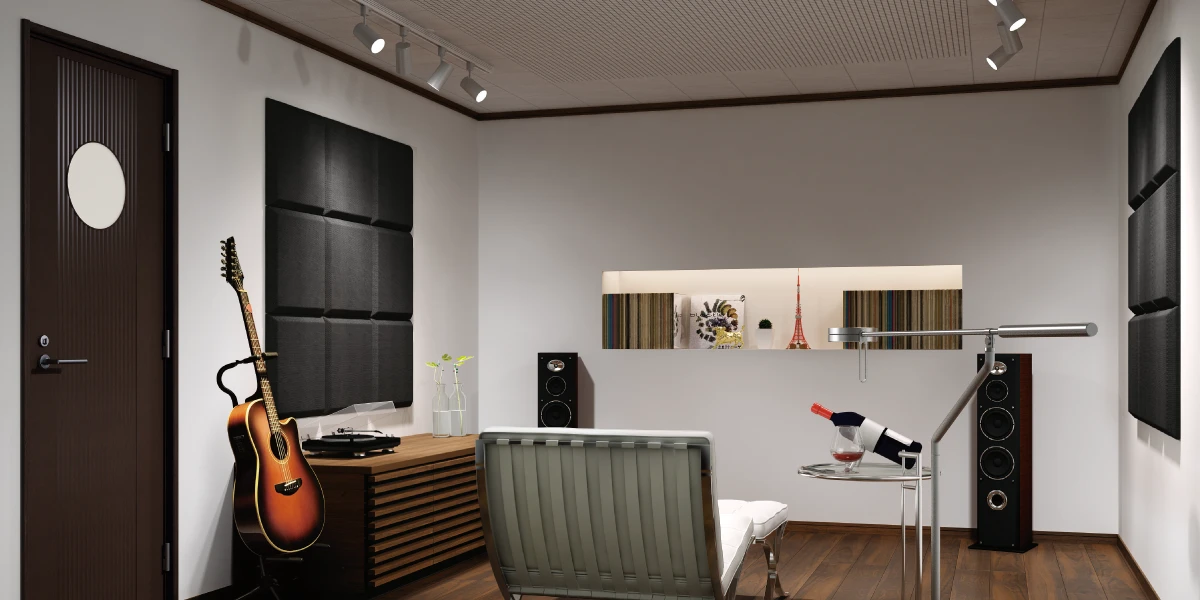 Daiken Acoustic Materials
make your home theater and music studio sound great!
Sound Absorption Materials
Sound absorption is the ability of a material to absorb sound waves to suppress sound reflection.
In ordinary rooms, sound waves are reflected by the ceiling, wall, floor, and other equipment one after the other, so it is difficult to obtain desirable sound.
By using ceiling and wall materials with high sound absorption characteristics, it is possible to suppress sound reflection to obtain an optimal sound environment.
Sound Absorption Ceiling Board
TB0210

TB0212

TB0213

TB0110

TB01018

TB01063

TB0210-1

TB0213-1
Sound Absorption Wall Panels
WB0320-11

WB0320-12

WB0324-11

WB0324-12
Sound Insulation Materials
Sound insulation is the ability of a material to prevent sound waves from passing in and out of a room.
For rooms such as a home theater or piano room subject to loud sound at 100 dB or higher, some sound isolation measures should be taken.
By using DAIKEN's sound isolation materials to isolate the entire room, it is possible to reduce sound leaking out of the room to approximately 1/2 to 1/4, compared to rooms using ordinary wall materials.
Sound-proof Door
Color Variation
Underlay Sound Insulation Materials
GB0104

GB01011-S

GB03053E
Construction Insulation and accessories
* The performance values and the certification labels are based on the Japanese test method and standards.
* DAIKEN CORPORATION does not guarantee that the products listed here conform to the laws and regulations of the country or region where they are being used.