New Technology
Daiken Ceiling grid Construction Method for Buildings and Stores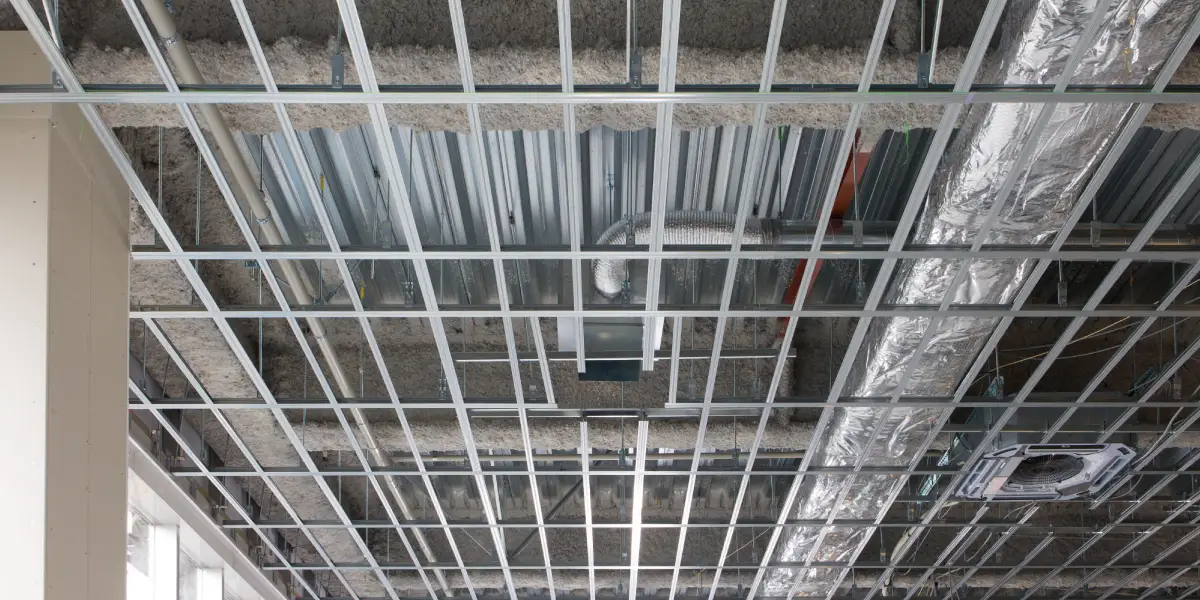 Utilizing the know-how of installation method of ceiling system, DAIKEN has achieved both earthquake resistance and workability improvement.
After the Great East Japan Earthquake, the Japanese Building Standard Law was revised to require higher seismic performance for ceilings. However, there was a concern that fulfilling the demand with the conventional construction method would result in an increase in the construction workload. To address this issue, DAIKEN adopted a unique new ceiling construction method that can improve the seismic performance of ceilings in a short construction period with less workload. This solution uses a ceiling underlayment material that combines the benefits of conventional ceilings with those of system ceilings.
Benefits of Conventional Ceiling Method
・ Flexible design
・ Usable for buildings in a variety of applications
+
Benefits of New Ceiling Method
・ High rigidity through the use of grid assembly
・ Unitized design for less workload and shorter construction period
▼
Earthquake resistance and workability improvement with comfortable indoor environment maintained
Simplified Construction with Improved Safety
Improving Seismic Performance with Conventional Ceiling Method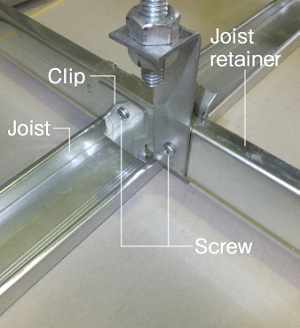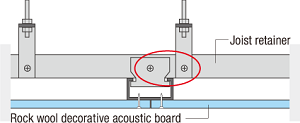 ●Joists need to be bound to joist retainers using clips and reinforcing metal fittings.
●High-rigidity diagonal bracing corresponding to the unit weight of the ceiling needs to be installed.
▲3 to 4 times the conventional
construction workload is needed.
New Ceiling Construction Method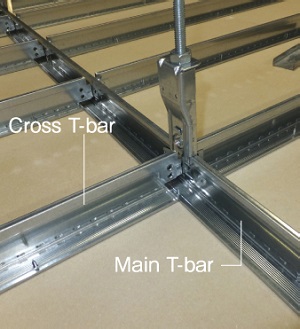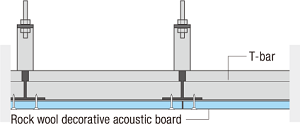 ●Dedicated T-bars have tenon joints, so need not be fixed using screws.
▲Construction workload is reduced by approx.
20 to 30%, compared to when using conventional
ceiling method to improve the seismic performance.
High Seismic Performance to Withstand a Horizontal Load Equivalent to 2.2G.

Our new method showed a high seismic performance of 4,000 N with respect to the allowable ceiling proof stress in the "unit test" (static pressurization test) designated by theMinistry ofConstruction (the current Ministry of Land,Infrastructure,Transport and Tourism.(*In-house testresult)

*Construction is performed in accordance with "Practical Guide on the Technical Standards concerning Measures to Prevent the Fall of Ceilings in Buildings" based on Notification No.771of the Ministry of Land, Infrastructure, Transport and Tourism.

Improved Safety with Light-weight Rock Wool Decorative Acoustic Boards

It is proved in our laboratory test that our rock wool decorative acoustic boards have a low risk to human life in the event of falls.

■ Dummy Head Test Result

(In-house test result in DAIKEN)

Reference: Dummy Head Test The impact force was measured by allowing each material to fall from the specified height. It is considered that there is a low risk to human life if the impact force is 2,000 N or less.

One-push Underlayment Installation Combined with Excellent Workability to Realize a Short Construction Period

The new method contributes to the reduction of construction workload because the number of seismic braces is reduced.

Weight of Ceiling in Conventional Method
10~20kg/㎡
*Total weight of materials under steel channels (Metal fittings + Underlayment + Finishing materials)

▼

Weight of Ceiling in New Method
8kg/㎡
*When using DIRECT GRID 600 (12mm)
*Total weight of materials under dedicated T-bars (Metal fittings + Finishing materials)
The above information relates to ceiling construction methods available in Japan. For their application to your country or other details, please contact our sales office.
* The performance values and the certification labels are based on the Japanese test method and standards.
* DAIKEN CORPORATION does not guarantee that the products listed here conform to the laws and regulations of the country or region where they are being used.