Residential Use
Underlayment System
Direct Fix
Tongue & Groove Joint
12mm Thick
Sound Absorption Coefficient: 0.45 to 0.53 (N.R.C)*
*The sound absorption coefficient value is based on the laboratory measurement. Measurements in actual sites vary depending on the structure and conditions.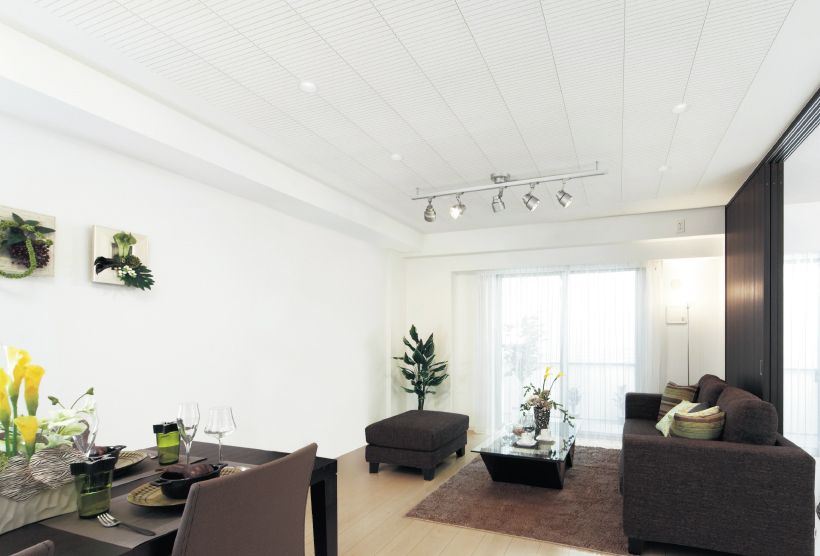 Combined with sound absorption capability to suppress disturbing reverberations, humidity conditioning maintains comfortable humidity in housing.
■ Labels Related to Public Certifications and Industrial Associations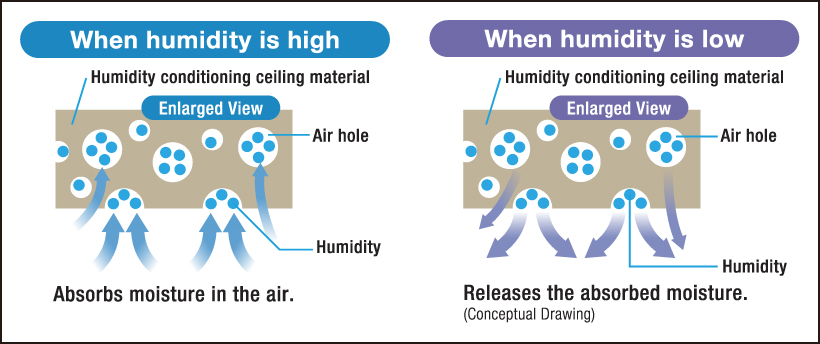 ■ Stable Humidity Condition deliver refreshing space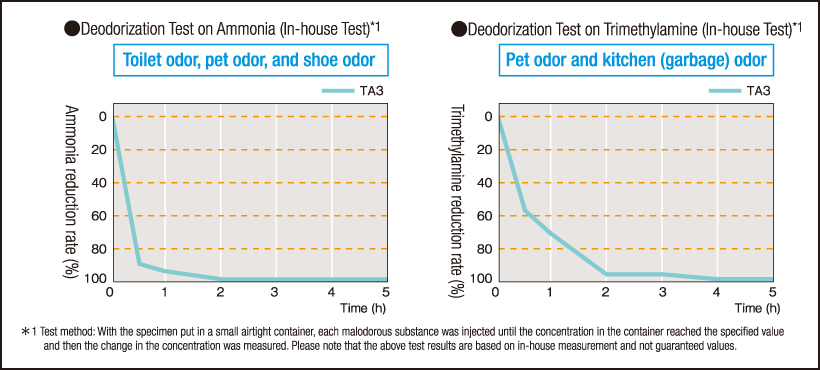 ■ Deodorizing Effect to eliminate Major Odors in Daily Life, Such as Toilet Odor, Garbage Odor, and Pet Odor
■ This product may be installed on cloth type of wallpaper's wall at home, etc, depending on the design plan and side condition.
〈FLAT〉
〈001〉TA9001

〈002〉TA9002

〈003〉TA9003

〈005〉TA9005

〈006〉TA9006

〈007〉TA9007
〈PATTERN〉
〈101〉TA9101

〈102〉TA9102

〈103〉TA9103
〈RIB/GRID〉
〈201〉TA9201

〈202〉TA9202

〈204〉TA9204
Dimensions
12 mm thick, 303 x 606 mm
Packingmaterial,quantity
Cardboard case, 18 pieces (3.3m²) per case
Base material
Humidity conditioning rock wool acoustic board (12mm)
Surface finish
Pinhole and rib processing (<201/202/204> only), emboss, and acrylic emulsion coating
Edge processing
Tongue-and-groove joint on all sides
Certifications
・Quasi-noncombustible material certified by the Minister of Land, Infrastructure, Transport and Tourism, QM-9817
・Eco Mark certified product (recycled materials used, 53% slag) No. 08123013
・Humidity conditioning building material, registered product name "Healthy and comfortable ceiling material DAI-LOTONE" (Humidity conditioning rock wool acoustic board (12mm))
Registration number: T08-0002 Registration agency: Japan Construction Material & Housing Equipment Industries Federation
Formaldehyderegulations
Labeling exempted product
■ Cross-sectional View
The value in parentheses indicates the dimension on long sides.
*<FLAT> and <PATTERN> products are intended for installation on the entire ceiling and therefore have no striped.
* The performance values and the certification labels are based on the Japanese test method and standards.
* DAIKEN CORPORATION does not guarantee that the products listed here conform to the laws and regulations of the country or region where they are being used.