Special made-to-order product

An individual consultation is required before ordering this product.Please contact your local representative for details.

Partially replaceable
Dent and scratch proof
Wax free
Easy renovation of flooring is allowed for apartments and houses for rent, which subject to frequent moving in/out. The high maintainability of the product contributes to the running cost reduction.
Excellent scratch resistance and maintainability
Dent and scratch proof

● Resists dents caused by the weight of furniture.

● Resists scratches caused by dragged furniture or dropped small objects.

Comparison of scratches caused by dropping objects

Renewable floor

General floor

Easy care

● The special coating material "EB Sheet" resists stains.

● Wax free and easy to clean

● Resists discoloration and cracking caused by direct sunlight.

Stain resistance comparison

Renewable floor

General floor (ink stain remains)
Easy one-by-one board replacement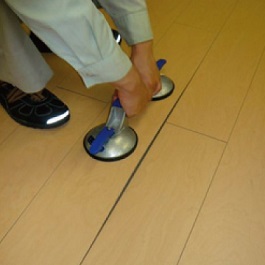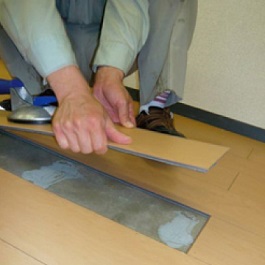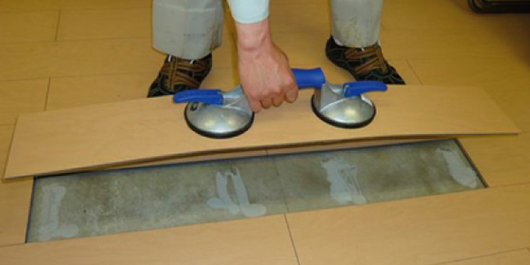 ● This product cannot be installed on concrete. Always install it on wooden bases such as plywood or particle boards.
● The overall softness of the floor is improved by the combination of the special adhesive (silicone-based)* and soft resin mats used as the floor base material. Make sure to use the special adhesive*.
● Easily flooring replacement is allowed from only one board.

The combination of the resin mat for vibration suppression and plastic-foam shock absorber reduces impact sounds on lightweight floors. Clattering, high-pitched impact sound that is transferred to lower floors can be suppressed.
Reinforced-concrete structure: LL-50 level *¹
Wooden house: LL-55 level *²
*¹ The data was measured at the test site where the product was installed on a 150-mm concrete slab.
*² The data was measured at the test site where 2 × 4 construction was implemented.
* The measured data is the result of the test conducted at the test site and not guaranteed.
■ Structure used for measurement (2 × 4)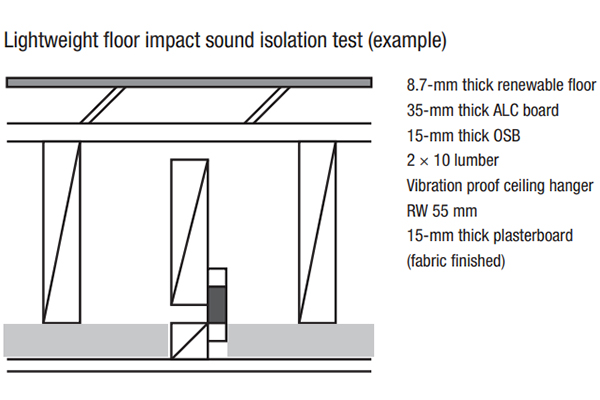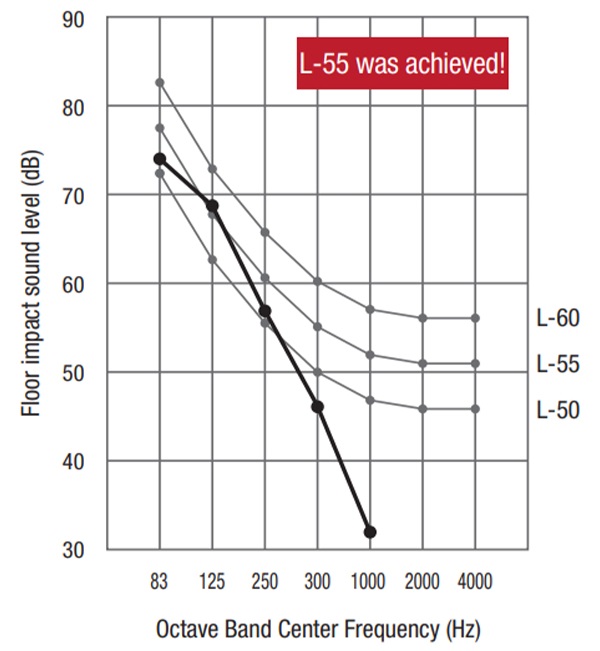 <TL (LIGHT)>

<SH (HARVEST BIRCH)>

<SF (FANGO MAPLE)>

<SM (MIRAGE MAPLE)>
Dimensions
For 1st floors: 5.7 mm thick, 150 mm wide × 910 mm long,
For 2nd floors: 8.7 mm thick, 150 mm wide × 910 mm long,
Packing material, quantity
Cardboard case, 24 pieces (3.276 m²) per case
Package weight
For 1st floors: Approx. 24 kg/package, For 2nd floors: Approx. 25 kg/package
Base material
MDF, resin (polyvinyl chloride) mat
Front surface
Olefin sheet (pre-coated)
Edge processing
Tongue-and-groove joint and slight chamfering on all sides
Formaldehyde regulations
F4-rank certificate of Minister
Special adhesive
Silicone resin adhesive 760 ml/piece [sold separately]
Cartridge type, F4-rank certificate of Japan Adhesive Industry Association
■ Cross-sectional View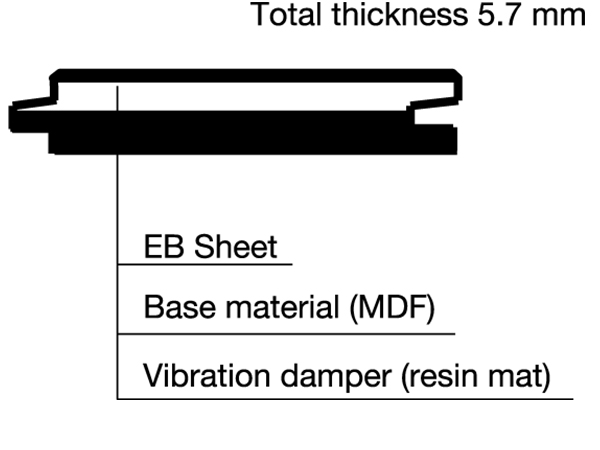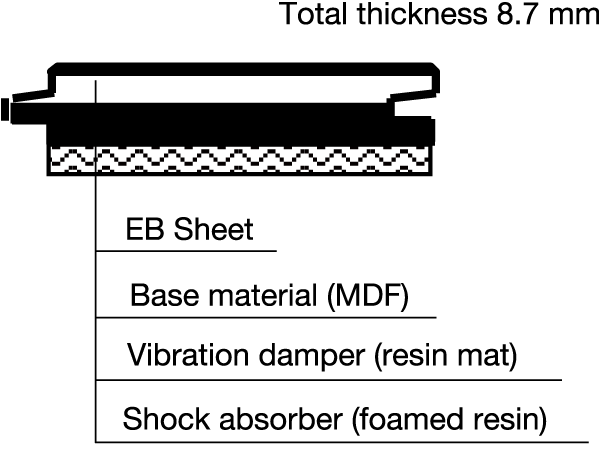 (Note) During the use, up to 2.0-mm wide clearance might be generated between flooring boards. This is the property of the product to ensure the performance of renewability.
* The performance values and the certification labels are based on the Japanese test method and standards.
* DAIKEN CORPORATION does not guarantee that the products listed here conform to the laws and regulations of the country or region where they are being used.
* The above flooring materials are not designed for use with shoes on.