Made In Japan
Tatami Mat YQ51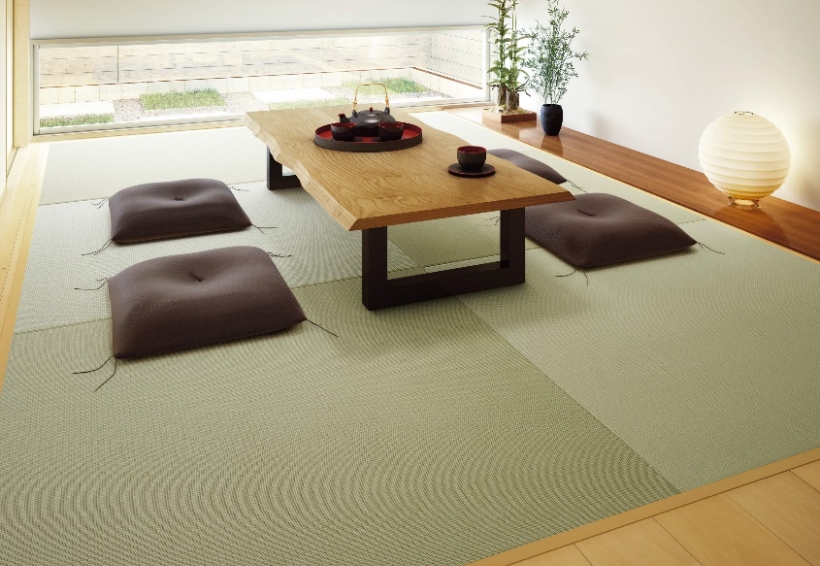 <01 GREEN>
YQ5101-2 (2 pieces per package)
YQ5101-3 (3 pieces per package)

<02 YELLOW>
YQ5102-2 (2 pieces per package)
YQ5102-3 (3 pieces per package)

<03 IVORY>
YQ5103-2 (2 pieces per package)
YQ5103-3 (3 pieces per package)

<04 BROWN>
YQ5104-2 (2 pieces per package)
YQ5104-3 (3 pieces per package)

<05 BROWN>
YQ5105-2 (2 pieces per package)
YQ5105-3 (3 pieces per package)

<06 DARK>
YQ5106-2 (2 pieces per package)
YQ5106-3 (3 pieces per package)
| | |
| --- | --- |
| Dimensions | 13 mm thick, 820 x 820 mm |
| Packing material, quantity | Cardboard case (2 or 3 pieces per package) |
| Weight | Approx. 3 kg per piece |
| Base material | Insulation board |
| Front surface | Machine-made Japanese Washi paper* fabrics (DAIKEN's Tatami facing) |
| Back surface | Slip-proof sheet |
| Formaldehyde regulations | Labeling exempted product |
*Machine-made Japanese Washi paper is used. This is not hand-made Washi paper made of hybrid mulberry, oriental paperbush, etc.
■ Cross-sectional View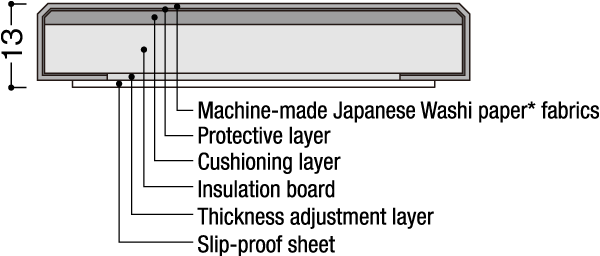 * The performance values and the certification labels are based on the Japanese test method and standards.
* DAIKEN CORPORATION does not guarantee that the products listed here conform to the laws and regulations of the country or region where they are being used.